Top-Notch Palmetto Pressure Washing Services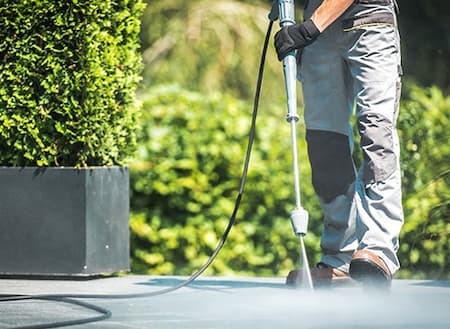 The experts at Senoia Softwash offer premier pressure washing services throughout Palmetto. We work hard to ensure you're getting a great clean for your home. Exterior home surfaces require just as much maintenance as your home's interior, and it can be hard to know how to keep these areas clean. That's why you should trust our Palmetto pressure washing experts.
Pressure washing is a great way to ensure your outdoor surfaces are kept clean and safe. The pressure washing process uses cleaners and high-powered water sprays to blast away dirt and grime. No matter how long it's been since your last outdoor cleaning project, we can help. We provide services for:
Deck Cleaning
Driveway Washing
Sidewalk Cleaning
Exterior Stain Removal
Our cleaners are safe and non-toxic, which means your kids and pets are free to return to playing outside as soon as the surface dries. You don't ever have to worry about harmful contaminants when it comes to your outdoor cleaning project in Palmetto when you work with our professionals.
Of course, not all outdoor surfaces are built the same. This means that some more fragile surfaces can't stand up to the high-powered water sprays used in pressure washing. For your house washing, roof cleaning, and gutter cleaning projects, we offer premier soft washing.
Soft washing is a gentle cleaning option that ensures your home is kept clean and safe. To learn more about how our pressure washing and soft washing experts can help with your outdoor cleaning projects in Palmetto, call Senoia Softwash at 678-588-7822 today and set up an appointment.
Premier Palmetto Sidewalk Cleaning
Sidewalk cleaning is an important part of your outdoor maintenance project. One of the first things visitors notice when coming up to your home is when your sidewalk is dirty and uneven. Without regular cleaning, your sidewalk can become a danger zone full of tripping and slipping hazards.
That's why we offer premier sidewalk cleaning options throughout Palmetto. Our sidewalk cleaning service blasts away dirt and grime to help keep your sidewalk safe. This doesn't just clean away natural debris, our cleaners break down contaminants you can't see with the naked eye. To learn more about how to keep your sidewalk safe, call to talk to our experts today.
Exterior Stain Removal Throughout Palmetto
Have you noticed stains on your outdoor surfaces? There are thousands of DIY blogs online that will help you create stain-removing pastes and cleaners. But what do you do when those don't work?
The experts at Senoia Softwash can help get those tough-to-clean stains out of your outdoor surfaces. We assess what is staining your surface before finding the perfect cleaners to wash them away. To learn about how we can help with your exterior stain removal project, call us today!
Call Us Today For Expert Pressure Washing In Senoia & The Surrounding Areas!