Sidewalk Cleaning & Walkway Washing For Senoia Properties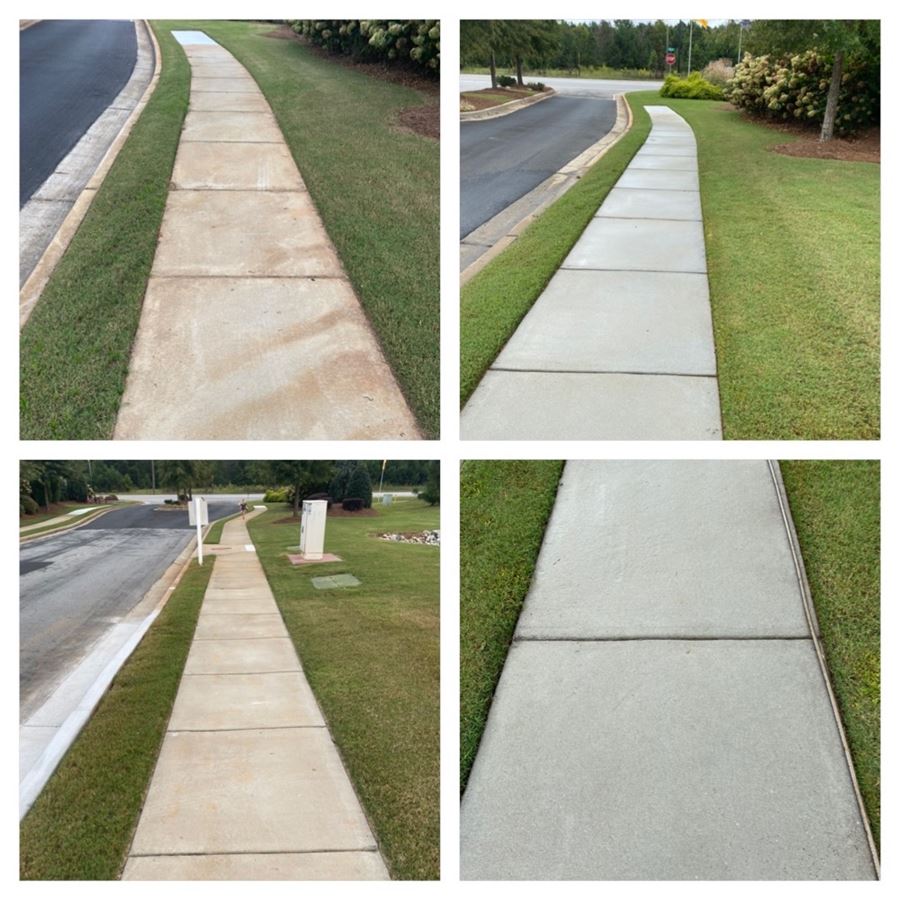 The pressure washing experts at Senoia Softwash offer premier sidewalk cleaning for your properties in Senoia. Sidewalk cleaning is a great way to ensure your visitors have a safe path up to your home. Dirt, algae, and even standing water can lead to tripping and slipping hazards. By investing in professional pressure washing in Senoia, you can feel confident you're getting a clean that focuses on the unique contaminants that find their way onto your sidewalks.
Your sidewalk is one of the first things visitors notice when coming up to your home. While a clean, safe sidewalk may not draw as much attention as a dirt sidewalk, the best way to make a great impression is to ensure your sidewalk remains cleared of obstacles.
Pressure washing utilizes cleaners and high-powered water sprays to clear away contaminants. Our experts wash away discoloration, dirt, and even standing water. Contaminants on your sidewalk can lead to more than just injuries, though. If they get into the structure of your sidewalk, contaminants can lead to breaking and cracking.
Our sidewalk cleaning service ensures that any cracks or breaks in your sidewalk are kept clean. While fixing your sidewalk often means repouring your concrete or asphalt, a professional cleaning can help to ensure these areas don't expand. If you're looking for a complete clean for your outdoor surfaces, you can pair our sidewalk cleaning with a professional driveway washing. Together, these services ensure that your outdoor surfaces are clean and maintained throughout the year.
To learn more about how a professional sidewalk cleaning can benefit your home, call the pressure washing pros at Senoia Softwash today at 678-588-7822.
Walkway Washing Specialists
Do you have walkways on your home property? Our pressure washing experts also offer premier walkway washing for your residential properties in Senoia. We want to make sure all your outdoor surfaces are given the best cleaning options.
No matter what material your walkway is made of, we can help. We'll assess the materials used to make up your walkways before we start the pressure washing process so you know you're getting the best cleaning options available. To learn more, call us today!
Sidewalk And Walkway Maintenance Cleaning
Sidewalks and walkways are often subject to the elements. Because of this, you'll find that, no matter how hard you try to avoid it, cracking and breaks will appear. Whether this is from contaminants or age, it doesn't matter. The pressure washing pros at Senoia Softwash can help ensure these areas don't get worse in the coming months.
A professional cleaning can help stop the spread of cracking and keep your sidewalks and walkways in great shape. To learn more about how our pressure washing options can help maintain your sidewalks and walkways, speak to our experts today.
Call Us Today For Expert Pressure Washing In Senoia & The Surrounding Areas!