Experienced Turin Pressure Washing Services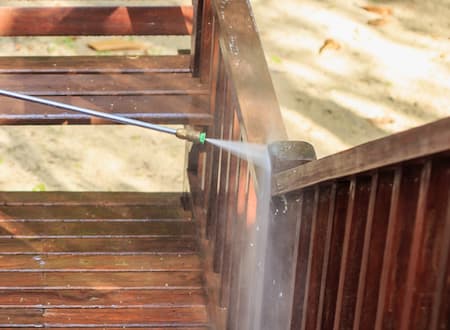 The professionals at Senoia Softwash offer premier pressure washing services throughout Turin and the surrounding area. We want to make sure you're getting all the outdoor cleaning services you need, which is why we use both pressure washing and soft washing. No matter what project you have in mind, we can help.
Pressure washing is a great cleaning option for your stronger outdoor surfaces. We can help with everything from deck cleaning to stain removal so you can feel confident you're getting a great clean. The pressure washing process uses cleaners and high-powered water sprays to break down dirt and grime on your Turin surfaces.
However, not all surfaces can hold up to pressure washing. That's why we offer premier soft washing. Soft washing uses a gentle, low-pressure water-bleach mixture combined with cleaners to clean away mold, mildew, and bacteria from your more fragile home surfaces. Soft washing is perfect for:
House Washing
Roof Cleaning
If you have other surfaces made up of siding, shingles, or softwood, we'll speak with you to choose the best cleaning options for your unique Turin property.
No matter how long it's been since your last outdoor cleaning project, we can help. To learn more about our pressure washing and soft washing services, call Senoia Softwash at 678-588-7822 to speak to our experts.
Walkway Washing For Your Turin Home
If you have walkways through your garden or around your home in Turin, our experts can help! We offer walkway washing so you can get a great clean for your walkway, no matter what materials make it up. We'll assess the materials before we start cleaning to make sure you're getting the best cleaners and water pressure for your unique Turin property.
A clean walkway doesn't just look good, it also keeps your property safe. Slipping and tripping hazards on walkways can be dangerous. By working with us, you can feel confident you're getting a great clean that will keep your visitors safe and sound.
Wait To Decorate Your Deck Until After Professional Turin Deck Cleaning
The best way to ensure your deck is ready for the warmer season is to invest in a professional deck cleaning. Deck cleaning utilizes cleaners and a high-powered water spray to blast away dirt and grime. We wash away pests, natural debris, and things like cobwebs to ensure you can spend time on your deck without worrying.
Your outdoor living space is an important part of your Turin home. To ensure you're getting the most out of your outdoor surfaces, call us today and set up a pressure washing appointment.
Call Us Today For Expert Pressure Washing In Senoia & The Surrounding Areas!