Tips For Decorating Your Deck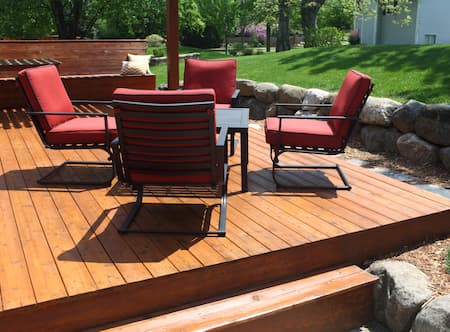 The outdoor living spaces on your property are great options when spending time outside. To ensure your outdoor living space is comfortable and clean, the pressure washing experts at Senoia Softwash are here to help you choose the best options for decorating your deck. Our experts will give you great tips for decorating your deck so your outdoor living space is ready for the warmer months.
Additional Lighting
One of the best ways to decorate your deck is to add additional lighting options. As the warmer months get here, you can spend more time outdoors. Even after the sun sets, the warmer months make it possible to stay outside. Additional lighting means you and your guests can still sit to visit outside without being in the dark.
A great reason to choose additional lighting is that lighting fixtures come in all shapes and sizes. This means that there are always lighting fixtures that fit your budget. You can choose lighting options that match your decor without having to break the bank.
Comfortable Seating
Multiple seating options means multiple comfort options. Many seating options come in sets so you can get chairs, couches, and settees of all shapes and sizes. The best way to choose seating options for your deck is to spend time in the furniture section of your local supply store. The example setups at local furniture stores can help you decide which seating option is best for your deck.
Like lighting, seating costs depend on your own budget. If you can't afford to spend thousands of dollars on a custom set, you can also get pillows or cushions to sit on outside. Oftentimes, cushions are cheaper than seating arrangements and can provide a decorative, comfortable option for outdoor seating.
Flowers And Planters
Are you looking to add a splash of color to your deck? Flowers and planters are great outdoor decor options. You can choose whichever flowers you want to ensure your deck is looking great. The best part of choosing flowers is that you can choose perennials, which come back year after year.
Another great thing about flowers is that you can choose decorative planters. Planters come in different shapes and sizes to fit your outdoor decor.
Drink Tables
Tables are one of the best additions you can add to your deck. If you plan to entertain outdoors, tables are perfect for games nights, beverages, and meals. You can get multiple smaller tables to hold drinks while you chat, or you can get larger picnic tables for meals.
Keep Your Deck Clean
The best way to ensure your deck is ready to entertain in the warmer months is to invest in professional deck washing. The experts at Senoia Softwash offer premier deck washing for your outdoor cleaning needs. Pressure washing is a great way to ensure you're getting a great clean for your deck. To learn more about how our experts can help with your deck washing project, call the pressure washing pros at Senoia Softwash at 678-588-7822 today and set up an appointment.
Call Us Today For Expert Pressure Washing In Senoia & The Surrounding Areas!